Miscellaneous Mutt Stuff
Home, Boy | Adoption Application | Adoption Guidelines | Available Animals |Bad-Hair Day | Books
Contact Us | FAQ's About Rescue | Foster Care | Foster Care Application
Herding Breed Characteristics | Links | Misc Mutt Stuff | Mission Statement | Pet Health and Safety
Radical Thoughts | Spay/Neuter | Success Stories | Surrendering/Last Resort |Volunteer Application
Click here and you too can help us save a dogs life


Are You Sure You Should Have a Dog?
Impulse shopping is okay if what you're buying is potato chips or even a television. But, one should never adopt a pet without first giving it a lot of thought and consideration. There are many things to take into consideration, such as:
Are You Ready for a Life-long Commitment?

What people need to realize is that animals should not be considered expendable or adoptable only as long as it's convenient. Are you in a stable living situation where you don't expect to be moving, or if you do have to move, are you willing to make a commitment to ensure that where ever you move, the animal will move with you? Do you understand that nine out of ten landlords do not want to rent to people who own pets, especially dogs, and are you willing to consider that moving without the animal is not an option? If you think the answer is yes, then think further still. Have you considered that when you move you will probably be asked to pay an additional pet deposit, when, in fact, you do find someone who will rent to you? Have you considered what you will do with the animal if you are "between homes"?

The most common reason for animal abandonment from even the most well-intended owners is "I have to move." Please, if you can't deal with the hardships that you might incur in owning a pet, don't adopt in the first place. Save yourself the guilt and the heartbreak of having to leave a family member behind, and save the animal the sadness, anxiety of instability & abandonment, and, quite possibly, death in a shelter.
Having and loving a pet is not a right, but a privilege!
| | | | | | |
| --- | --- | --- | --- | --- | --- |
| Annual Costs | Notes | Small Dog | Med Dog | Large Dog | Cat |
| Food | 1 | $55 | $120 | $235 | $115 |
| Recurring Medical | 2 | $210 | $235 | $260 | $160 |
| Litter | 3 | | | | $165 |
| Toys/Treats | | $40 | $55 | $75 | $25 |
| License | | $15 | $15 | $15 | |
| Health Insurance | 4 | $225 | $225 | $225 | $175 |
| Misc. | | $35 | $45 | $65 | $30 |
| Annual Total | | $580 | $695 | $875 | $670 |
| Capital Costs | | | | | |
| Spay/Neuter | | $190 | $200 | $220 | $145 |
| Other initial medical | 5 | $70 | $70 | $70 | $130 |
| Collar/Leash | | $25 | $30 | $35 | $10 |
| Litter Box | | | | | $25 |
| Scratching Post | | | | | $15 |
| Carrier Bag | | $40 | $60 | | $40 |
| Crate | | $35 | $95 | $125 | |
| Training Class | | $110 | $110 | $110 | |
| Capital Total | | $470 | $565 | $560 | $365 |
| Long Hair Groom | | $264 | $320 | $408 | |
| First Year Total | | $1,314 | $1,580 | $1,843 | $1,035 |
1. Premium brand dry kibble 2. Exam, vaccinations, heartworm preventative & topical flea/tick preventative
3. Scoopable litter for cats, scooped daily; hardwood shavings or recycled paper products for rabbits, guinea pigs and small mammals, changed at least weekly
4. Insurance coverage varies: some policies cover spay/neuter, vaccinations and heartworm medication. The annual deductible will also vary depending on the policy.
5. Deworming, basic blood tests & microchip
<![if !supportLineBreakNewLine]> http://www.aspca.org/adoption/pet-care-costs.aspx
<![endif]>
Why Do You Want a Pet in the First Place?
Are you considering a pet because you have resolved in your heart and mind that you truly want to include a pet in your family? Are you considering a pet because you have resolved in your heart and mind that you truly want to include a pet in your family?
Often, adults will adopt animals because the children are pining away for a puppy. The parents might even get the children to verbally commit to taking care of a pet. But what so many people don't realize is that having a pet such as a dog is much like having a child. One would not expect a child to take care of another child, but, not realizing what a big job it is, they believe their children can and will take care of a dog. Most children are not able to take on such responsibility and, as it turns out, the adults of the family end up being the primary care givers of this pet. If you have children under six years of age, you may want to wait a few years. Problem-free pet companionship requires some degree of maturity on the part of children. If you don't want to wait, then consider whether or not you're ready to be the animal's primary caregiver (just in case the deal you make with the kids falls through), and ask yourself if it's something you can reasonably take on given your other responsibilities?
If the answer is no or you're not sure, please don't adopt a dog. You may unknowingly be getting the dog into a situation of neglect. Such active and high functioning pets cannot be ignored because you are too busy or too tired. They require food, water, companionship, and exercise every day without fail. So when you agree to adopt a dog, you must fully understand the nature of the partnership you are creating. The shelters are full of animals who were given up because the owners failed to fully take into consideration how much time it takes to properly care for them.
Have You Truly Assessed Whether or Not Your Lifestyle Can Accommodate a Canine Companion?

Do you live alone and work a lot? If you are away from home a lot, do you have a support network that will co-companion your pup with you so that the animal is not alone as much as you are away? Do you understand that you will have to modify your day-to-day activities to accommodate your pet?
Are you ready to get up a couple of hours earlier every morning for the rest of your animal's life so that you can get in a walk with Rover before work? Are you willing to forego that Friday night right-after-work get together with your office mates because it's important that someone be home to let the dog out to pee--and while you're at it, how about that evening stroll? Dogs, like children (and many adults), need consistency and to have a canine companion in your life will mean sacrificing to greater or lesser degree the spontaneity you may now enjoy. Many behavior problems can develop with dogs who are left alone too much. Dogs are smart and easily bored, and they long for human companionship. If you're a student, a proverbial social butterfly, or your work often takes you away from home more than 9 or 10 hours a day, you may want to consider waiting until your settle down before adopting a pet.
Ask yourself this question: Are you willing to change your lifestyle to accommodate your new family member?
Will Your Vacation Plans Include The Puparoo? If Not, Who Will Care for Your Pet While You're Away?
You have to have one of two things if you're not taking your canine companion with you on vacation: friends who will care for the animal in your absence or the necessary funds to pay for the kennel. Kenneling a dog for a week, depending on many variables (such as size, weight, and accommodations requested), can cost anywhere from $75 to $125. You'll need to figure this into your vacation budget. Though, there are lots of fun places to go where you can take the pie-eyed pup with you. Going on a road trip? Motel 6 gladly takes dogs*, as do other motels and camp grounds. Shop around!!
*The friendly folks at Motel 6 say they've never met a dog who burned holes in their carpets, tried to steal their televisions, or flushed towels down their toilettes...so dogs are fine by them.
Will You Be A Responsible Pet Owner?
Having your pet spayed or neutered, providing a high quality nutritional diet, medical care when needed, annual inoculation, grooming, training, and obeying leash & licensing laws are all part of responsible pet ownership. Deciding to find the money to maintain a pet should be an absolute consideration when contemplating pet ownership; five bucks here, ten bucks there adds up quickly. Oh, another thing . . .
If you really mind picking up dog poop, you may not want to get a dog. State and county laws require that owners poop scoop, and besides, it's simply the right thing to do. Many animal diseases are transmitted by feces and dog owners need to share a common concern for the welfare of the dog community at large. Not only that but it's simply a matter of courtesy to others to pick up after your pet. If you're not willing to do that, please don't get a dog.
| | |
| --- | --- |
| | The streets and walking trails are already too full of fecal debris and litter, and like the old saying goes, "if you're not part of the solution, you're part of the problem." |
Adopting an animal requires a very pro-active attitude. It has to be a deliberate and conscious decision on your part. Like any relationship, it requires commitment. Can you do it? If the answer is "yes," big rewards will come your way.
Do You Feel That You Can Be a Responsible Pet Owner, But You're Still Not Sure if You Should Have a Dog? Consider Foster Care.
Successful rescue efforts depend on the generosity of people willing to open their hearts and homes for temporary foster care of animals in transition. Foster homes are used in cases where a pet is unable to stay with its permanent owner for any number of reasons--perhaps there's been a death in the family, or serious illness, maybe a stressful divorce. Rescue organizations such as North Bay Canine Rescue & Placement will pull animals who meet our guidelines out of shelters to spare them from euthanasia. Foster homes provide interim homes for such animals until permanent homes can be found for them.
Reputable rescue organizations will fully screen prospective foster companions to ensure that a good match is found between the person and the animal. The home environment is assessed to ensure that foreseeable mismatches do not occur...for instance, placing a large dog in a small apartment could be problematic, or a high strung, active animal with an older person who may have physical limitations to prevent the best care and exercise of the animal. Mrs. Jones may not be able to handle a 110 pound Mastiff or a spring loaded Border Collie, but she and Sadie the Lab mix or Max the aging Aussie would be a perfect match for each other, given each of their needs and state of being.
While foster care is not recommended for people who are not familiar with the commitment required to take an animal into their home, many a fabulous match has been made for people who had the notion they could provide foster care and were willing to give it a try. To learn more about being a foster care companion, begin considering the type of dog you feel would best suit your home environment. Give us a call and we will work with you to assess what would be the best match for you. Foster care is a rewarding endeavor and you may, in fact, learn that you are the kind of person who blossoms and thrives with pet companionship.

Now, About That Vacation . . .
Every body needs one--even Moxie the Doxie or Katie the Kelpie. But deciding whether or not to take the pup(s) with you depends on your situation and whether or not your critters travel well. You'll pretty much know after one good trip whether or not they're good for the road. Here are some tips for when you can't take them along and when you can:

Boarding your pet in a kennel, getting a pet sitter, or leaving your dog with friends are pretty much your "leave behind options." Be careful when selecting a kennel at which to board your pet. Talk to friends, associates, and your vet for referrals.
There are as many bad kennels are there are good and you'll want to shop around. Be sure you visit the kennel you intend to use. Check it our for cleanliness and safety and try to observe how staff handles the animals there. Are they treating them in a way you would want your canine companion treated? Prepare a list of questions and don't be afraid to ask them. Insist on a tour of the facility. How does it appear--even, how does it smell? Trust your intuition; if it doesn't feel right, it probably isn't.
If your thinking of hiring a pet sitter, have them come to your house, and if possible, have them accompany you on a walk around the block with the dog. Observe how they interact with your pet--do they handle your dog well? Does your dog like them? Are they confident yet kind? Interview the person as though you were hiring them for an important job because, after all, you are. Let them do lot of the talking and see if you like what they're saying. Some questions to consider are: what will be their walking routine--are they taking other dogs out with yours; are they sticking to the neighborhood or are they transporting to another area; are they bonded and insured for liability; how would they handle any given difficult situation? What responsibility are they willing to assume if your pet is injured or ill while in their care? Ask for references and call them.
| | |
| --- | --- |
| Back to the top | Think Ahead! Any time you board an animal at a kennel you will need to show that your pet is up to date on all vaccinations, including Bordetella (a shot that you have to know to ask for at inoculation time--without the Bordetella shot, you won't be able to board your dog, no matter how up to date the other shots are). Also, any reputable pet sitting service should require current inoculation for the benefit of all dogs in their care. Likewise, you may want to do business with only those services that make proof of inoculation a condition of service, to ensure that your own dog is protected from exposure to certain illnesses. |
Make reservations well in advance. Good kennels are in great demand, especially during typical vacation times and around holidays. You may want to consider making your reservations at least a month in advance of the legal holidays--especially around Thanksgiving and Christmas/Hanukah.
If your dog is on medication or has special dietary needs, be sure to provide clear instructions and an ample supply of what ever is needed. Leave emergency numbers--the vet, where to find you, a friend in the city who is willing to take a call in your absence regarding your pet if need be. Be sure to clearly define instructions and pet care options should you not be able to return to your dog due to any unfortunate circumstance. Without such forethought, your pet may well end up at the pound and that would probably never be your intent.
Taking Fido With You: Here again, careful planning is required. Did you call ahead to ensure that your pet is welcome where ever it is you'll be staying. If you're driving, make sure there's a comfortable nest for the dog and that he or she does not have to compete with your having over packed the vehicle. Animals, like humans, grow road weary and will need to be able to stretch out a bit. For safety, you can purchase special seat belts which reduce any risk to your animal in case of an accident. Dog barriers, which you often see in the back of station wagons, hatchbacks, and 4-wheel drive type vehicles serve a dual purpose: they restrict the animal to his or her own secure place in the car, and they can prevent the dog from being thrown forward in case of sudden stops.
Never allow your pup to travel untethered in an open truck bed.

Open truck beds provide no protection from the weather, hot or cold, or from the injury of impact or momentum. And because dogs can't hold on the way we can, sudden changes in starting, stopping, or direction can throw him or her from the bed onto the highway. If, at high speed, the impact of hitting the road doesn't kill the dog, oncoming or passing traffic surely will. At least 100,000 dogs die this way every year. Unfortunately, though some states by law prohibit animals (and humans) from riding unrestrained in the back of trucks, the law is seldom enforced.
If you have no camper shell and can't seem to work one into your budget for awhile, get a pet crate from your local pet store and tie it securely to the truck bed so it doesn't move around while you're on the road. Traveling crated, your dog is afforded some protection from the sun, wind, or rain, though it's safest to allow your dog to ride inside with you. Get cozy.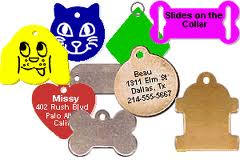 Always have proper identification on the dog. Animals are easily lost when traveling and it's important that they are wearing a collar and current tags. You may consider keeping a photograph of your pet in your vehicle at all times, in the event he or she becomes lost and you have to search for them. Proper identification could mean the difference between life and death for your pet. According to the American Humane Society, approximately 15 million dogs go to shelters as strays; only 19 percent of them are redeemed by their owners. Few of the animals are wearing proper collars and tags.
Doggies, on the most part, love car rides. You, no doubt, will want to be with your companion while on vacation if at all possible and, if not, you'll pine for them while you're apart. The links below will connect you to two interesting sites regarding traveling with pet companions. If you know of a travel-related site that you would like to share with us, please send it to us and we'll add it to our list. Our email address is Netknack@sonic.net.
Travel Dog Homage, kept by td@traveldog.com.

Traveling Petowners of America, kept by Nanci Cosentino, travelpet@aol.com. (this one takes some navigation but be persistent . . . it's good once you get there--the site is actually hiding behind one of the tripod.com windows, so once you've drilled down "homelife," then "pets," you may find it. Good luck. It's an interesting site, but buried somewhere in the belly of a commercial web host. )
Happy traveling everyone!!

HEY!!!
DON'T PUT YOUR
BAD BEHAVIOR ON ME!!
(Parts reprinted courtesy of the American Humane Society)

So you came home from work and the new dog you got from the pound chewed the leg on one of your kitchen chairs. Well, it's time to show her who's boss, right? And you can't have the dog chewing your house up are while you're gone--that just won't work. So you since dog's so much want to please us, the thing to do is to show your displeasure, right? So you get really mad--you holler, and maybe even hit...surely, this has got to get through to her.
Your pet may look like she understands why you're mad at her, but more than likely, all she understands is that she doesn't want you to be mad. To change your pet's behavior, you must remember that the two of your are not the same species. Too many of us think of our pets as humans when it comes to modifying behavior problems, but our pets do not think or communicate the same way we do. And, if we expect them to, that's a problem of our own human behavior that we need to correct because unfortunately that stinking thinking negatively impacts our pets and can seriously rupture the bond we share with them.
To prevent breaking the bond between us and our pets, we need to understand how our pet thinks so we can change his or her bad habits with a minimum amount of confusion, frustration, or damage.
How Your Pet Thinks
Your dog tips over the kitchen trash can whenever he is left alone. You try scolding and shaking him in front of the mess, but he continues to dump the trash, only now he cowers and has that "guilty" look when you arrive home. Well obviously, you think to yourself, he knows he's doing something wrong, right? No, wrong. The "guilty" looks are submissive postures to show you that he knows you're angry, but he doesn't know why. If you dumped the garbage yourself and then left the house, your dog would have that same "guilty" look when you returned. What your dog understands is that he gets yelled at when you come home to find garbage on the floor. He does not understand that it is the actual act of dumping the garbage that upsets you. The same applies to chewing, scratching, or house soiling.
This is why punishment is such an impractical and often damaging way of training your pet. Punishment makes your pet fear you and sometimes forces him or her to become aggressive, and it does not necessarily make for an obedient pet.
For correction to be effective, you have to catch your pet in the act and the correction has to be strong enough to make him or her stop after only a few times. Animals have no long-term memory for things like "yesterday, I pulled the garbage out of the can and got in big trouble for that, so I better not do that again." They are truly creatures of the moment. Animals are also extremely intuitive and are sponges for our "bad vibes." If you continue to react angrily toward your pet, trust will be broken and the animal's fear of you will take hold.
How To Change Your Pet's Behavior
Even though pets are not people, we do share a preference for pleasant things. Humans and animals alike catch on very quickly if rewarded. If you stop scaring or hurting your pet when she does something wrong and start rewarding her every time she does something right, you will see a definite difference.
Be sure not to make the behavior worse by using positive reinforcement in the wrong situation. If you console your pet while he is acting afraid of people or noise, he will think you are rewarding him for being scared.
As with most pet-and-owner problems, your pet is probably doing a perfectly normal behavior, like urinating or barking, but in the wrong place or at the wrong time. You first have to determine why your pet is doing it and encourage her to it some place else or at another time.
Punishing your dog when he sniffs or licks at the baby can teach the dog to: be afraid of the baby because bad things happen to him when the baby is around; he could become aggressive toward the baby because he fears the baby; or he could do something like barking to get your attention away from the baby and directed toward him. Instead of punishment, try the following: teach your dog to sit and lie down using food rewards or tell him to obey these commands around the baby in return for a chew bone, snack, and/or petting.

Back to the top
HOUSETRAINING
Solve the Problem by Understanding the Process
[by Ian Dunbar, Ph.D., MRCVS]

Understanding the problems associated with housetraining is a wonderful way for owners to understand other canine behavior problems. Some misguided folk still try to control behavior problems with punishment in a hopeless attempt to curtail the dog's behavior altogether. "Corking the volcano" attempts at controlling behavior seldom work. On the contrary, punishment exacerbates many problems, since it forces the dog to misbehave at times when it cannot be punished, like when the owner is away. What is disturbing, though, is the lack of foresight--the sheer inhumane silliness--of inviting a dog to share our home and then punishing it for acting like a dog.
| | |
| --- | --- |
| | When it comes to house soiling, it must be obvious that one simply cannot say to a dog, "No more elimination." I mean, what's the dog to do? Its irrepressible need to eliminate quickly impresses on most owners the need to teach the dog where it should eliminate: to acknowledge that elimination is a normal, natural and necessary canine behavior, and rather than trying to cork the dog and forbid it from eliminating altogether, the solution is to teach the dog how to perform its toilet duties in a manner that is acceptable and appropriate for domestic living. |
A Spatial Problem
Most people acknowledge that house soiling is a spatial problem: The dog is eliminating in the wrong place. So what's the problem? Just show the dog the right place to eliminate and reward it for doing so. In fact, set up a reward gradient to train the dog to eliminate in a specific toilet area: a "Good dog!" for doing it outside; "Goooooood dog!" and a couple of pats for doing within ten yards of the doggy toilet; "Whaaat a good doggie," many pats and a food treat for doing it within five yards; and "Yes, Yes Yes! Goooooood placement," multiple pats and ear scratches and three extra-tasty treats for hitting ground zero and eliminating in the doggy toilet. In just three days to a week this adult dog is house trained; moreover, it now wants to eliminate in its doggie toilet, since soiling the house does not have comparable fringe benefits.
You might think at least some of the above is sound advice, but one vital piece of information is missing. In addition to being a spatial problem, housesoiling is also a temporal (meaning interim or short-lived) problem. The temporal nature of housetraining creates two common scenarios: 1) Either the dog is in the wrong place at the right time (the dog left in the house with a filling bladder and/or rectum while the owner went to work, hence the dog was forced to soil the house), or 2) the dog is in the right place at the wrong time (the dog was taken to its doggy toilet or walked by the owner, but its bladder and rectum were empty because it had already eliminated in the living room when the owner was at work).
Before getting angry with the dog (and, heaven forbid, punishing it when we arrive home), perhaps we should consider first, who, exactly, is at fault, and second, why we don't just housetrain the dog? Then there will be no further cause for frustration and hypertension. The owner must take full responsibility for the dog's actions and train the dog.
Being in the wrong place at the right time may easily be prevented by confining the dog to an appropriate area when it is left alone for lengthy periods. Surely, common sense dictates that if a dog is not fully house trained, it would be folly to let it have unsupervised access to any part of the house for even a minute, let alone all day. When the dog is left at home alone, it would be smart to confine it to a small area, such as an outdoor run or a single room indoors (the kitchen or utility room), so that if the dog eliminates, it will do little damage and, therefore, not upset the owner.
If you don't have a yard or a kitchen, or if you live in a small studio apartment with wall-to-wall carpeting on the 27th floor, then improvise. Build a smaller playpen for the puppy/dog with a dog bed in one corner and a doggy toilet in the other. Take up the carpet or, in the dog's playpen, cover the carpet with several layers of plastic sheet and put a piece of tough linoleum on top.
For a doggy toilet, use sheets of newspaper or a litter box. However, if you want the dog to eliminate outside eventually, it is helpful to use outside items like soil in the litter box or a couple of concrete pavement slabs--perhaps a roll of turf. This is passive training: By the time the pup is old enough to be walked outdoors, it will have already developed a strong substrate preference for eliminating on concrete or soil.
[article continued below, but here's your chance to quickly move on]
Confinement, Then Relief
The primary purpose of long-term confinement is to confine the problem: The owner acknowledges the puppy/dog will probably need to eliminate some time during the long period it is left alone, so it is best if feces and urine are deposited only in the doggy toilet of the long-term confinement area and not all over the house. (Obviously, a dog crate is not a suitable place to confine an unhouse-trained dog for long periods of time, otherwise it will be forced to soil its crate. Once the dog has developed the habit of crate-soiling, this messy problem will frequently recur and render the crate a useless housetraining tool.)
If the owner only knew when the dog wanted to relieve itself, housetraining would be a non-problem: The owner would simply show the dog the appropriate spot and praise and reward the dog for using it. Unfortunately, most owners cannot predict the dog's needs and, consequently, waste a lot of time walking empty dogs. What novice dog owners need is a foolproof, time-efficient, user-friendly means to predict when the dog wants to eliminate. Simple. Closely confining the dog to a small space just large enough for it to comfortably lie down strongly inhibits the dog from eliminating, because it does not want to soil its bed. However, during this period of confinement, both bladder and rectum progressively fill, making it highly likely the dog will want to eliminate immediately upon release from confinement. Since the owner chooses when to release the dog, the owner is choosing when the dog will eliminate.
To implement the housetraining program, confine the dog to a small area, for example, a dog crate, basket or bed, and every hour on the hour take it to its toilet area and give it three minutes to eliminate. If it does, praise it enthusiastically and maybe offer of couple of food treats into the bargain. Since the dog is now empty, it may be allowed to have the run of the house--as long as someone is there keeping an eye on it so that it doesn't get into mischief. If the dog does not eliminate during the allotted three-minute toilet break, no big deal, just put it back in the crate for another hour or so, and so on.
The purpose of the short-term, close confinement and long-term confinement are quite different: Long-term confinement in the owner's absence confines elimination to a small, protected area, and thus prevents mistakes in other parts of the house; close confinement temporarily inhibits elimination altogether, so that the dog will likely eliminate when released.
Compound Problems
Occasionally, the two house soiling problems are compounded: Not only does the dog soil the house, but it also refuses to eliminate on walks. This really annoys the owner. It is not actually uncommon for a dog to fail to eliminate on a walk--regardless of the encouragement, pleading and prayers from its owner--but to do so immediately upon returning home. Basically, there are three reasons why the dog would do this: 1) The dog would much rather eliminate at home, in private; 2) The dog has learned that its walk will end as soon as its feces hits the ground; and 3) The dog dare not eliminate in the presence of its owner.
That many dogs develop an early preference for eliminating on carpets, indoors, underscores the importance of never letting the puppy/dog make a single mistake during its first two weeks at home. Just one mistake is the start of a habit--a bad habit. Within just one or two repetitions, young pups (or older dogs in a new home) quickly develop favorite locations and/or substrate preferences for eliminating. Instead, the dog must develop a spatial preference for eliminating outdoors and a substrate preference for concrete, dirt or grass.
Fear of Elimination
Why do you think the dog does not want to eliminate with the owner around? Is it shy? No. Look in the mirror, there's your problem. During the early stages of the housetraining fiasco, the little dog was peacefully relieving itself in an out-of-the-way corner of the living room when suddenly the owner screamed, "Arrgghhh! &*#%*!! NOOO!!!" and with the speed of greased lightning, grabbed the defenseless critter in mid-poop and . . . you know the rest. This reprimand was not what one would call instructive.
Rather than learning that it should not eliminate in the living room, the dog learned that it would be foolish to eliminate at all in the owner's presence. The owner tried to cork the volcano. The dog must eliminate; if it dares not do it while the owner is there, it will wait until the owner is gone.
Dr. Dunbar is a veterinarian, animal behaviorist, and dog trainer based in Berkeley, California.