Reverse Border Collie Rescue
by
Eva Ciabattoni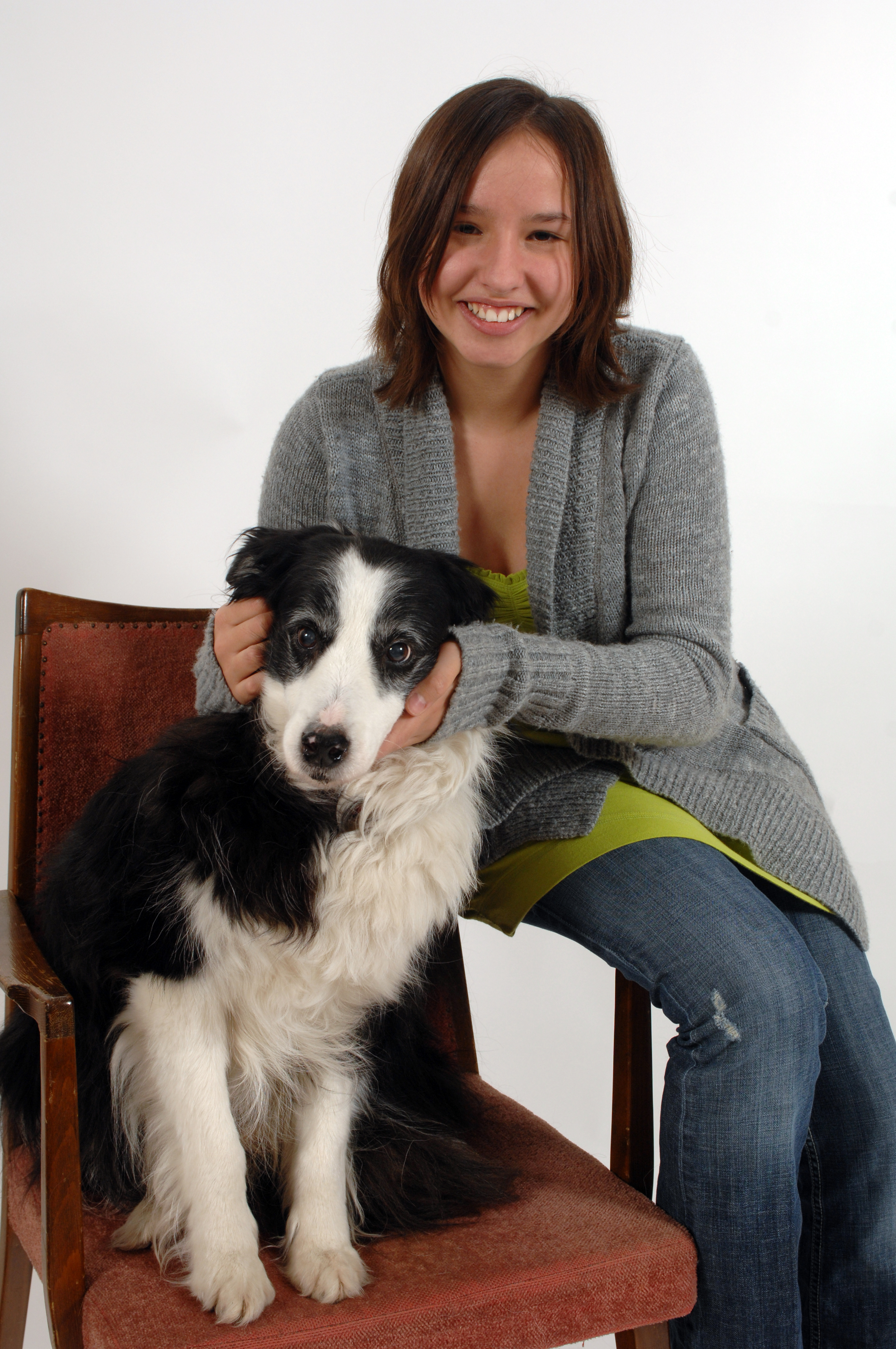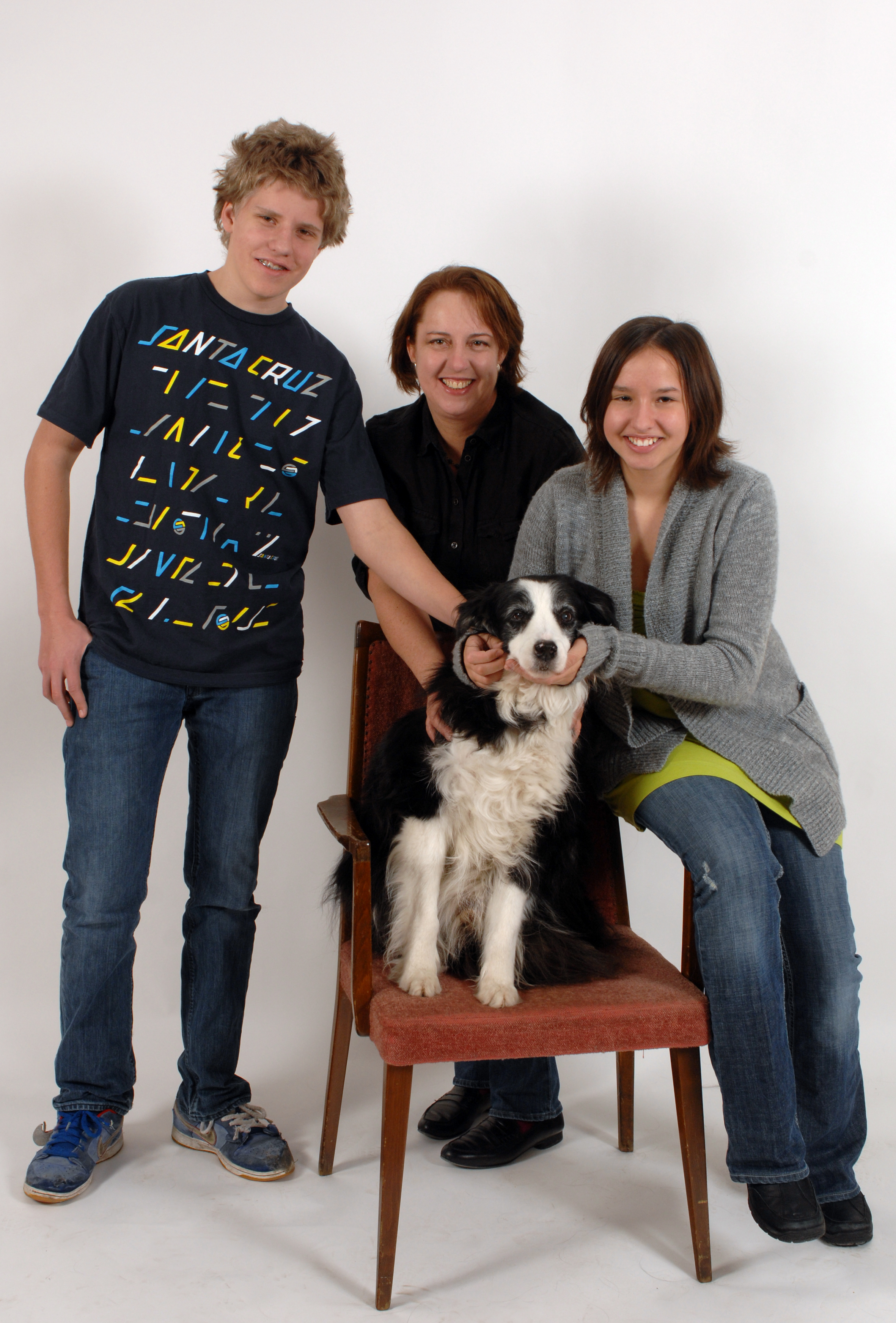 Our border collie joined our family the day before Thanksgiving in the year 2000; the next day he did not leave his spot in front of the stove until the turkey was brought to the table. North Bay Canine Rescue had rescued him from an animal shelter in Modesto, named him Clint, and placed him in a foster home, where he was quickly socialized after 2 or 3 years as a stray. The ad we answered was for a different dog, but Linda, the foster owner, thought that Clint would be a better fit for a family with small children since he didn't instinctively try to herd them by nipping at their heels.
To the profound puzzlement of our staunchly Republican neighbors, we commemorated the 2000 election year by changing the dog's name to Clinton; they could not figure out if this signified laud or censure for the outgoing president. The good times our family had enjoyed eroded over the next 5 years—serial unemployment and diminishing savings coupled with illness and the threat of losing healthcare coverage led to marital stress and divorce.
The five years from 2005 until 2010 were difficult nomadic ones as the children and I moved back to Austria where I had been born and tried to establish ourselves among the extended family I had left behind after my parents moved to the United States in the 1960s. We moved several times, made several false starts, and changed schools until arriving at a more peaceful place mid-2010 when I landed a secure job, got a pretty apartment and finally unpacked all the boxes.
Throughout all this upheaval, Clinton was at our side, taking everything in stride. Instead of walks on pavement in Silicon Valley, he now enjoyed walks along the wooded trails of the Vienna woods. One of the things he loved was to wade into a river and let the water cool his belly as he drank. Usually he would shake while still in the current. He loved visits to the butcher shop where he always got a few meaty treats. We noticed that he grew whiter around the muzzle, but his energy was unchanged. He was always happy to see us, always at the door when one of us came home, and central to our family in every way. Like me, whether by nature or experience or some combination, he was never destined to be an alpha personality. Like me, he was eager to please, loyal, and grateful.
Once our lives had been stable for nearly a year, Clinton's kidneys began to fail and he declined rapidly. The day before he died was a gorgeous day and the kids and I walked him in the woods and let him drink from the river not knowing that it was the last time. That evening he stopped eating and the next morning he raised his head as if to ask if we could manage without him now, if we could let him go. He died in my arms on May 30, 2011, at around 14 years of age, and as he died I thought that his is how I would like to die one day, in the arms of someone beloved. And I realized that it wasn't us who rescued Clinton, but Clinton who rescued us.
---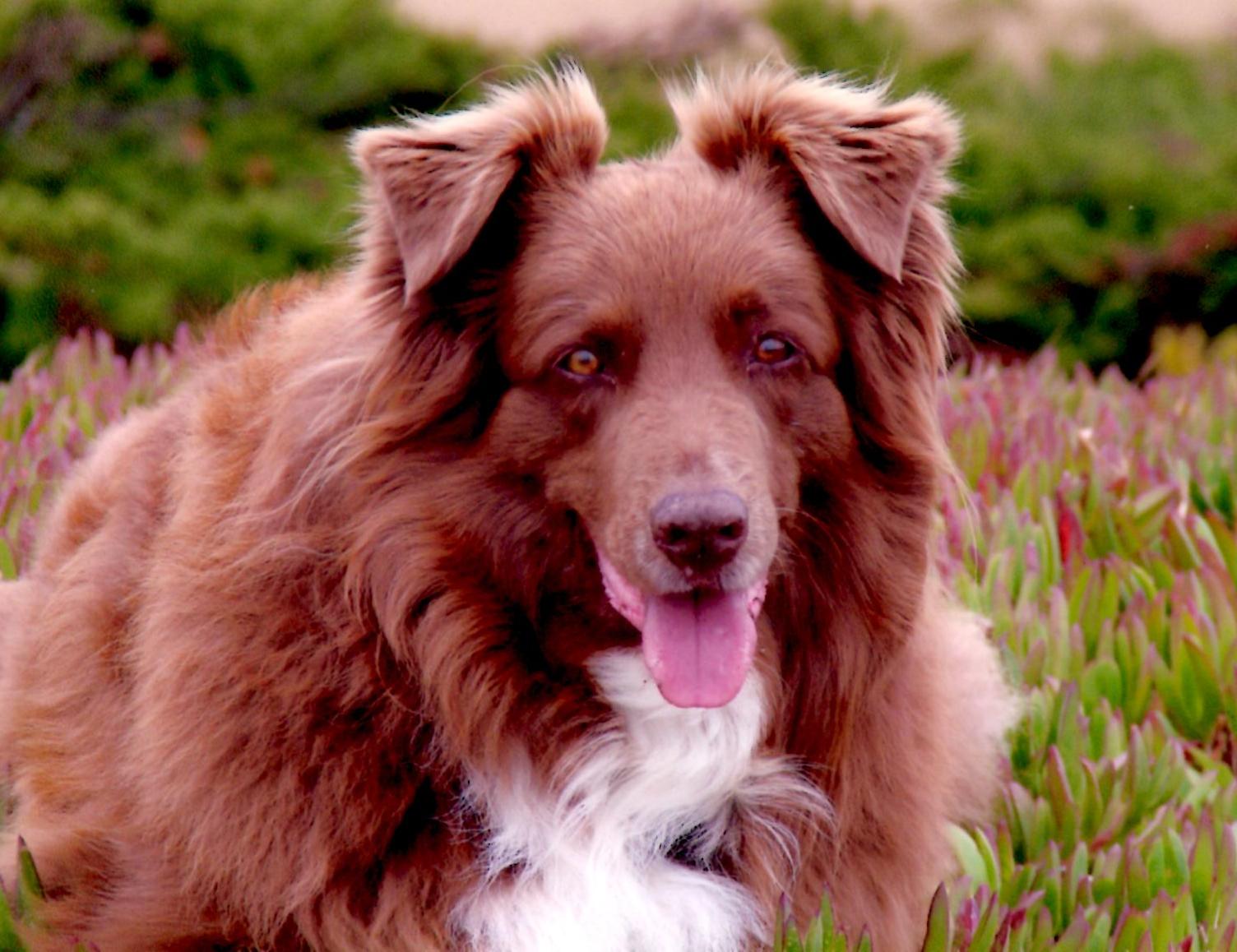 This is Ginger at 12 years old.
Ginger was a terrific dog. When we got her from North Bay Canine when she was 3 years old. She was extremely shy and fearful of us as well as other strangers. We took her to the SPCA for obedience training. By training her with treats, she became very social and seemed to think that everyone in the world was there to see her. We also enrolled her in agility training, she really enjoyed that! She never competed, she just did it for fun.
She is an example of how a shy and fearful dog can become a family pet with love and patience. You CAN teach an old dog new tricks!
Kay and George Teiber
---
This is little Pirata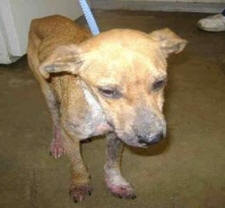 He came to North Bay from a shelter in Long Beach, he was on death row. He had severe mites that caused most of his hair to fall out, he was underweight and he was unloved. Several people worked to get him out and finally he got to fly to Bakersfield. From there, he was picked up by a North Bay volunteer and brought to Napa where he was picked up by his foster mom and brought to Santa Rosa.

This is Geoffrey hugging his best pal.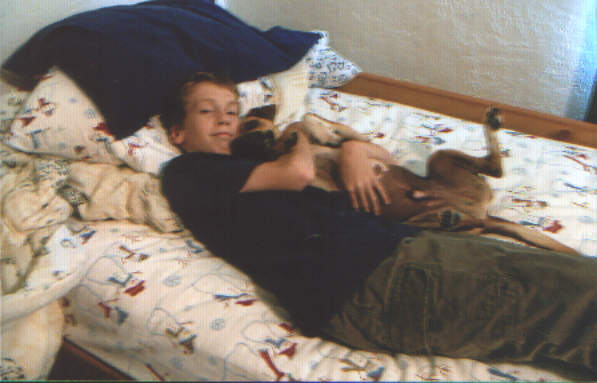 Geoffrey and his family had been looking for a dog for a while. Geoffrey saw Pirata's picture and said "That's my dog" His mom said "Are you sure, he is kind of small" He gave his mom one of those 'if looks could kill' looks and that was that.
It was not a fast adoption. Pirata needed months of treatment to get rid of the mites before he could go live with his new family. They were patient. They let him visit on weekends. They thought and thought and gave him a new name "Tiberious" after James T. Kirk of Star Trek. Fitting, since he got to help fly the plane from Long Beach to Bakersfield.
This is Tiberious.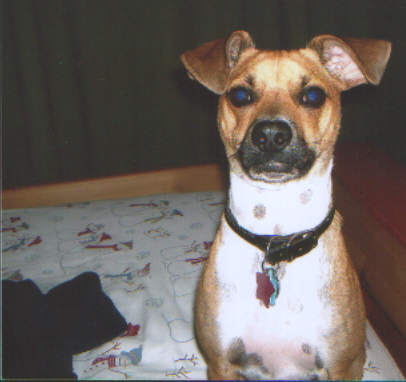 . He is one happy dog. He loves his family and they love him. (Well, not so much their cat, but they are working things out)
His new family sent us this note.
"Dear Hollie (& North Bay Rescue Folks!),
We cannot thank you enough for all of the work you do for pets. We cherish our Tiberious and are thankful everyday that he was rescued so he could find his way into our family. My son, Geoffrey, just loves him so very much - they are never apart except when he's at school. We are still working with the vet to improve his skin issues, but he has come a long way. He is still quite yappy around other dogs, but we are socializing at parks, etc. and he is learning so fast. He's a smart little guy! Thanks!!!! Kim, Frank, Kyle, and Geoffrey Lewis"
We had a follow up on Tiberious on 2/26/2012
"Hello! It's been a long time since we have exchanged news. Tiberious now has luxuriously thick and shiny fur all over his body! We put him on a daily dose of fish oil and it changed his skin like you wouldn't believe. He no longer itches himself and you can rub him up and down his back and his coat feels soooooo good. We just had some friends over for dinner last night and they were commenting on what a wonderful dog he is and how you just never know what you are going to get when you adopt a rescue dog. We were thinking of just how far he has come from when he first came to us. I thought I would share our thoughts with you and pass on the information about the fish oil. It made all the difference in the world to his skin and coat. He is a well behaved, happy, and very cuddly boy and he has brought so much joy to this family."
---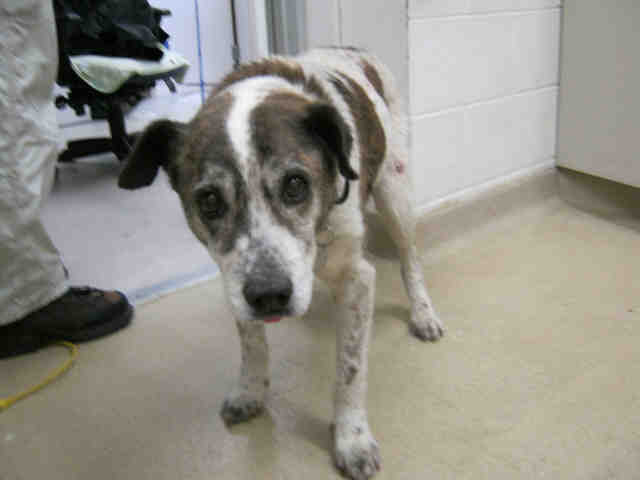 <![if !vml]>
<![endif]>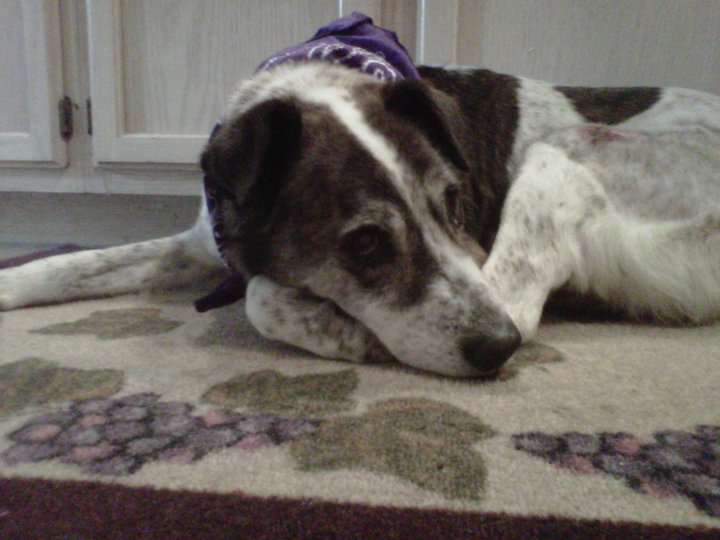 In 2011, LUCKY was 12 years old. He was dumped at Sonoma County Animal Control when his person was taken away from him.
His name befit him. He landed in a shelter that believes the old guy need a chance so they did not euthanize him immediately. He needed medical help, which he had not received from his person and the shelter did for him. His Pet Finder listing was seen by Laura, who knew she had to rescue him.
Laura McCants saw the posting that we did on Pet Finder. She contacted us, we contacted the shelter, and now he has his forever home, FOREVER.
Laura sent us this update:
"He is sound asleep in his big comfy bed. He will be a house dog and will reap the benefits of being pampered like all dogs should...especially the senior dogs."
Literacy - Gone to the Dogs
July 26, 2009, 4:50PM MT
By Elizabeth Sundstrom

It's 2:00 on Thursday afternoon at the Albany Public Library - time to begin the weekly session of Paws to Read, a program that allows children with reading difficulties to practice their skills with dogs. Suzi Sargent, the children's librarian, has carefully selected 15 books and arranged them on a long table. Today's selection is all about dogs and includes Bertie Was a Watchdog, Animal Hospital, and Clifford Goes to Dog School.

Franklin, Zedd and Buddy have arrived early to prepare for story time. Having eagerly greeted each other, they are now patiently lounging on oversized floor pillows positioned strategically throughout the room. The three are canine graduates of a non-profit organization called Therapy Pets and each has a story of his own to tell.

Franklin
"I've seen children who wouldn't read a word if a parent was nearby. However, the same child would read with ease to Franklin once the parent stepped away," says Leal Charonnet, Franklin's guardian. Leal and his wife Terry rescued Franklin, an Australian Shepherd, from North Bay Canine Rescue in Petaluma eight years ago and trained him to be a therapy dog.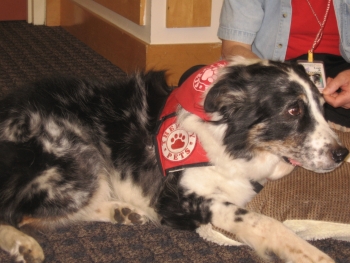 The Charonnets already had a dog but were on a foster care list for dogs in desperate need. One afternoon at 4:30, Terry received an urgent call from the organization asking if she would be willing to adopt or foster a three-year-old male from the Martinez Shelter. Franklin, a beautiful, easy-going dog, had been at the shelter for a month but no one had contacted the local rescue groups because they were convinced Franklin would be adopted quickly.

Terry was the last name on the foster care list and no one else had been able to help. The shelter was going to euthanize Franklin at 5:00. With so little time to act and no time to consider alternatives, Terry decided she and Leal would become a two-dog family and agreed, sight unseen, to adopt Franklin.
The story continues with Zedd & Buddy at http://network.bestfriends.org/golocal/california/news.aspx?pID=11857
Photo by Best Friends Volunteer Newswriter Elizabeth Sundstrom